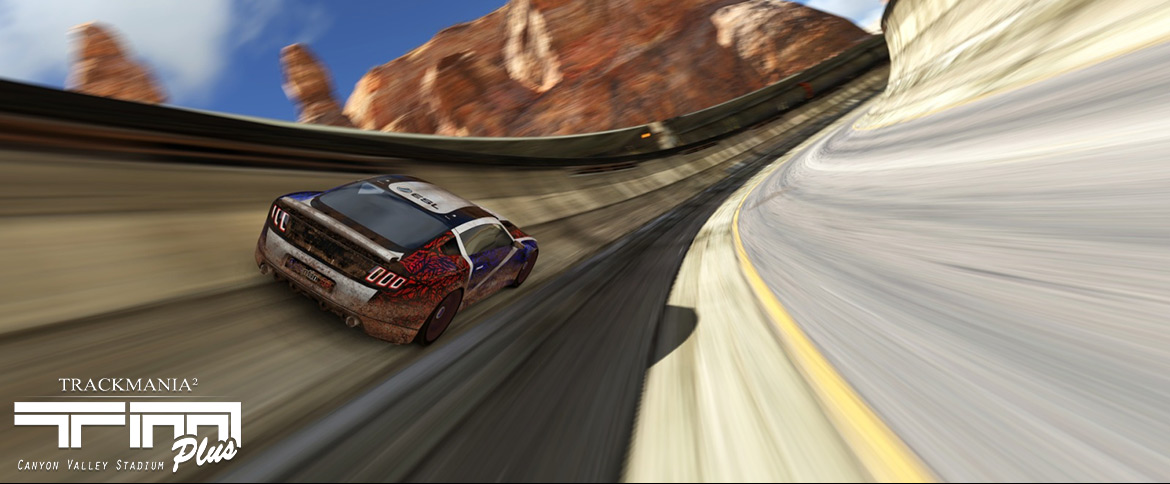 Firstly, what is "TMPlus"?
TMPlus is an amazing titlepack made by Redix, Tipii and Stefou and constantly updated and renewed with relevant maps, objects and features. Main goal is to offer challenges every week for everyone, just as the big number of helpful 3D objects which make building maps a much bigger pleasure. Cliffsides, extreme ramps, tunnels, turbos, pipes and so much more. Take a look at this video to know what we're talking about.
The titlepack does not only feature missions and blocks, but also is home of the infamous PMC (Planets Millions Cup), which is a once-in-the-month competition where players have to be first on crazy community-made endurance maps. Also the WTC (World Trial Cup) is happening in this titlepack.
You can download it straight from the Maniaplanet store.
What are those missions?
Every week, from Friday 10:30CEST, the TMPlus titlepack offers new so-called "missions" to be hunted for the best time on their servers.
Goal is, to hunt the best time in one week until the next friday. Not on one, but – if you can – 4 different maps with different styles:
You get 50 planets on each map if you simply finish it! The better your time, the more points you gain in the TMPlus Ladder.
What can I win?
Regarding the MX'AC leaderboard, here are how many points you can win on each mapstyle:
| Mapstyle | 1st Place | 2nd and 3rd place | 4th and 5th place | 6th to 10th |
| --- | --- | --- | --- | --- |
| Trial | 5 | 3 | 2 | 1 |
| Race | 5 | 3 | 2 | 1 |
| Endurance | 5 | 3 | 2 | 1 |
| LOL | 5 | 3 | 2 | 1 |
How do I participate?
Simply download the TMPlus Titlepack from the Maniaplanet Store and join a mission server! As soon you've set a time, you officially participate! You can check your current rating in the TMPlus homescreen.
Points will be given between the 27th of November (when the week starts, Marius89) and the 25th of December!